Cool By Proxy
NOTES
with passionfruit, pink guava, blood orange, lime, and lactose.
Aroma: canned peaches/guava
Mouthfeel: thin with a velvety layer like fresh squeezed juice
Sweetness: key lime pie on shortbread with tropical sorbet
Finish: crisp lime edge with lingering sweetness
Down Side Down
NOTES
With pineapple, vanilla, and lactose. Flavors of a Dole fruit cup with a light overarching taste of bright rosehip bitters and backed up with a small amount of a floral pineapple skin and freshly cut flowers.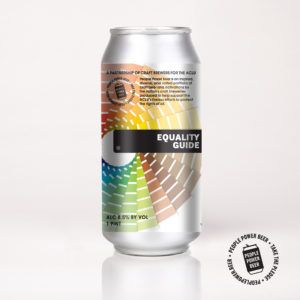 People Power
NOTES
Sour Double IPA with Pink Guava and Lactose.
People Power Beer, organized by Threes Brewing in Brooklyn, NY, is an inspired, diverse, and united portfolio of craft beer and activations by the nation's craft breweries produced to help support the ACLU's tireless efforts to protect the rights of ALL.
$2 from every 4pk sold of this beer is donated to the ACLU.
AVAILABILITY
Collaboration
Trope
NOTES
Sour DIPA with MASSIVE amounts of mango, passionfruit, tangerine, and toasted coconut, along with an eeeentsy weeeensty bit of vanilla to round it out. Contains lactose.
Trope v1.5
NOTES
With Mango, Passionfruit, Boysenberry, Coconut, Vanilla, and Lactose
Trope v2.0
NOTES
With Pineapple, Pink Guava, Boysenberry, Coconut, Vanilla & Lactose
Trope V2.5
NOTES
With Mango, Pineapple, Passionfruit, Coconut, Vanilla, and Lactose.